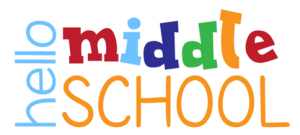 P.E. UNIFORM INFORMATION 2023-2024
**Students are required to purchase a P.E. uniform and a lock for the locker if they are taking gym class.***
***Lock must be purchased through VRA.***
Required uniform: Gym shirt and shorts. Optional: VRA hoodie, sweatpants, long sleeve dry fit shirt and cinch pack.
We have updated our gym uniforms with a cool new look! Optional items approved for P.E. are the items at the below link. Students cannot wear hoodies, sweatpants, shirts or shorts that are not purchased through VRA. All orders must be placed through the below link. Orders will be packaged and shipped directly to the school around January 26, 2024. Your child's teacher will give your child the order when it comes in. 
Link to place order for new uniforms:  https://crowleyprinting.com/shop/ols/categories/valley-ridge-academy-pc
Link to purchase required gym lock for $5.oo: https://www.schoolpay.com/pay/for/PE-Locker-20232024/Sb2qPb7
STUDENTS ARE RESPONSIBLE FOR BRINGING THEIR GYM UNIFORM AND SNEAKERS TO SCHOOL EACH DAY TO CHANGE INTO. STUDENTS WILL NOT BE CALLED TO THE OFFICE IF THEY FORGOT THEIR UNOFIRM/SNEAKERS. 
NO REFUNDS OR EXCHANGES!! PLEASE CHOOSE GROUP DISTRIBUTION WHEN YOU ORDER. ALL ORDERS WILL BE SENT TO VRA.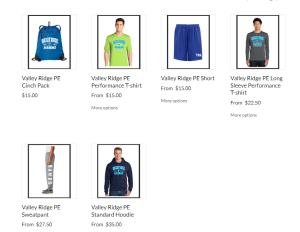 You may also purchase the old style uniforms in stock at school instead at a discounted price while supplies last. Due to limited quantity, certain sizes may not be available for purchase. 
Link to purchase old style shirts and shorts for $7 each:
https://www.schoolpay.com/pay/for/PE-Uniform–Shirt-20232024/Schr3h9
https://www.schoolpay.com/pay/for/PE-Uniform–Shorts-20232024/SUhzkm
HAC Access
If you need a HAC login or HAC password reset, please go directly to the HAC website: Home Access Center
Families new to St. Johns County as well as those returning to VRA can access HAC to register and create a HAC account (new to St. Johns County) and/or retrieve account information (returning families) such as passwords or usernames.
If you are experiencing issues with obtaining your HAC access, please email Diana Schoolfield at [email protected]
Download the eSchoolPLUS Family App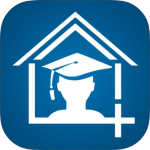 The eSchoolPLUS Family App allows you to view your student's current classwork, schedule, grades and more using your smart phone or tablet.
Schoology For Parents:
What is Schoology? Schoology is an online tool that manages curriculum, assessments, grading and other classroom management tasks and is also a communication platform for educators and students in grades 6 -12. Follow this link to learn more about this tool and how you can stay connected with your child's school work.
Bell Schedule:
Middle School Elective Information 
Rising 6th grade Elective Information  (current 5th graders)
Rising 7th grade Elective Information  (current 6th graders)
Rising 8th grade Elective Information  (current 7th graders)
Please see application for Yearbook and Internship below. Rising 7th and 8th graders are eligible for Yearbook. Rising 8th is eligible for Internship. Your child must log on when prompted to their school Microsoft account to complete the form.
Yearbook and Internship online application
Middle School Parent Night Presentation 2022-2023
Please view this important slideshow from the Parent Information Night that was held on 3/31/2022. It is filled with great information pertaining to Middle School 2022-2023.
Middle School Parent Night 2022
Link to Physical Education Waiver for Middle School Students: https://www.stjohns.k12.fl.us/pe/wp-content/uploads/sites/70/2018/08/Middle-School-Physical-Education-Waiver.pdf
8th Grade:
Directions for Student Academy Request in Home Access Center