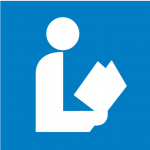 Parental Choice Library Book Restriction Form
Parents may utilize this form to restrict titles their child may check out in the school library. Please complete the form and return it to your child's teacher or librarian.
This form is only required when a parent is seeking to restrict access to materials in the media center.
Please encourage your children to take care of the library books they borrow, keeping them safely in a protective bag/case within their backpack, returning them on time and in good condition so they are available for others to read. Due dates are marked in the back of each book.
"When in doubt, go to the library."