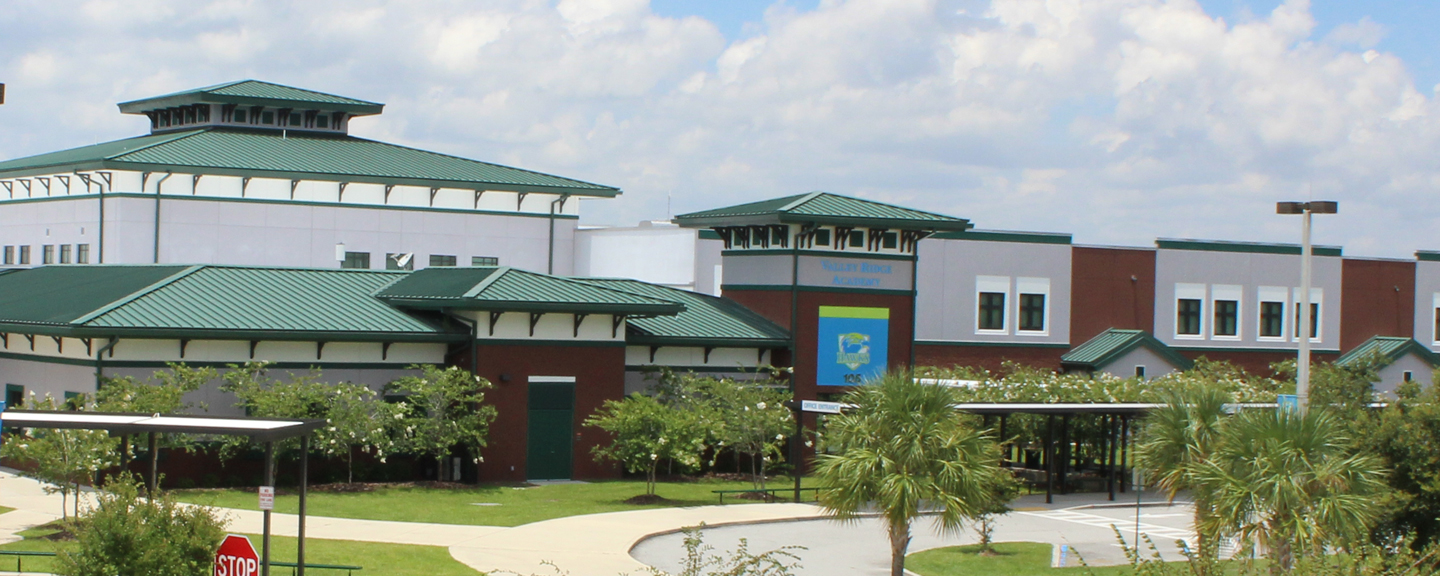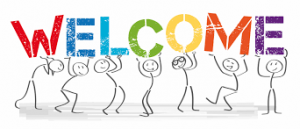 WELCOME TO VRA!! 
Are you new to VRA?  We welcome you to take a tour around the school to visit various areas and classrooms.  
Congratulations to our Teachers of the Year and School Related Employee of the Year for 2021-2022!!
Elementary: Leah Davis
Middle: Andrew Burk
Rookie: Brooke Lovelace
Employee of the Year: Joy Calvo
Order the 2021-2022 Yearbook!
Enter school name or code 702579 to purchase your yearbook. Yearbook copies are limited, so don't delay in reserving your copy today. All yearbook orders must be placed online.  
https://buytheyearbook.pictavo.com/PictavoSchool/FindSchool
EARLY BIRD DISCOUNT! 
$35.00 $30.00
DON'T FORGET TO MAKE YOUR STUDENT FEEL EXTRA SPECIAL BY PURCHASING AN AD IN THE YEARBOOK!
We accept dismissal changes up until 2:15 PM every day except Wednesdays. 1:15 PM is the deadline on Wednesdays.
Registration Timeline – Career and Technical Education (CTE) of St. Johns County
https://cte.stjohns.k12.fl.us/timeline/
Registration Timeline – Career and Technical Education (CTE) of St. Johns County
Any SJCSD resident who is moving a student from home school, virtual school or private school may apply for an academy by pre-registering for school on-line at the SJCSD website and selecting to also apply for a Program of Choice. All pre-registrations need to be completed online by the end of the school day February 10, 2022. If you should have any questions, please feel free to contact cte.stjohns.k12.fl.us
Winter Wonderland Gift Shoppe
Winter Wonderland is coming to VRA December 1st-10th! Students will have the opportunity to shop for loved ones. There will be over 200 items to choose from, prices ranging from 25 cents to $15.00. We accept cash or checks (made out to VRA PTO or you can purchase a Winter Wonderland gift card for them to shop with at the link below. Parents will not be able to attend. There will be many volunteers and staff on hand to help students shop.
 https://www.wonderlandgiftshoppes.com/gift-cards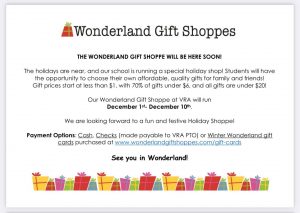 Birthday/Holiday Treats 
VRA's food policy is ONLY STORE BOUGHT FOOD WITH AN INGREDIENTS LABEL ON THE PACKAGE will be allowed.  This is regarding class parties/birthday treats/celebrations/ class treats/sharing of food. Food being brought into school will still need to be pre-approved by the teacher and as always we encourage healthy snacks. ALL FOOD MUST BE INDIVIDUALLY  PRE-PACKAGED AND CANNOT BE HOMEMADE. Examples can be Rice Krispie treats, Ice pops and Little Debbie cakes. Non food items are preferred.
Lunch Change Notification 
 To reduce the demand on our supply chain and accommodate current staffing levels, the St. Johns County School District will return to normal food service operations on Wednesday, December 1, 2021.  Students who qualify for free or reduced meals based on direct certification or a family income application will continue to receive meals at no or reduced costs.  Students who are not eligible based on income will return to a PAID status. 
Please see links below for more information and to apply for free/reduced lunch. 
2021-2022 Free and Reduce Application form
FINAL Lunch Program Change Notification
COVID-19 Information
Visit the COVID-19 Dashboard for the latest district news, COVID Instructional Documents, and COVID Health & Wellness resources.
PARENTS: To report a positive case of COVID-19, please first call the Department of Health at (904) 506-6081 for guidance on next steps. If you have any COVID related questions, please call the Quarantine Call Center at 904-819-1101.

Please review the below sheet with your children daily before bringing them to school.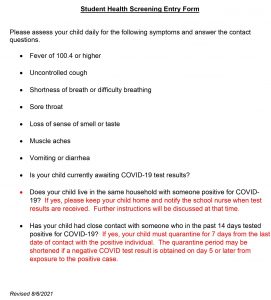 VRA 2021-2022 FUN RUN
 We're only 2 weeks away from our Hawk Fun Run! Our goal is to raise $40,000 for new technology!
Here is a quick video overview of our fundraising program.
 https://rebrand.ly/2wk-out-scn-overview
Also, here are a few things to know about this important fundraiser:
All families can support our school by either donating, sharing on mybooster.com, or both Students can receive rewards when parents share from mybooster.com

All students get to participate in the Event day, regardless of financial participation

This fundraiser comes with an incredible character development program for students where they'll be learning about the importance of teamwork, care, courage, grit and celebration

We are working hard to make this fundraiser safe, fun, and successful for everyone! 
Key dates to remember: 
Donating Opens – 10/27 

Register on 

MYBOOSTER.COM

, SHARE, & GIVE!

Fundraiser Kick Off – 11/10

K-5 Fun Run 11/19

Middle School Color Run 12/3
Thank you for working with us to make our school stronger. We are grateful for your support!
District Master Calendar Upcoming Events
School Hours
8:25 am – 2:45 pm (M,T,Th,F)
8:25 am – 1:45 pm (Wed.)
Office Hours
7:30 am – 3:45 pm
2021-2022 Instructional Materials Adoption for Mathematics
The St. Johns County School District curriculum department formally announces the review process for the 2021-2022 Instructional Materials Adoption for Mathematics. The core resources that have been submitted for evaluation have come from the state adoption bid list and other submitted resources from publishers when available. Additional resources for advanced programs may be reviewed from materials listed as appropriate for the program indicated.
Please visit the instructional materials website to view the resources that are being considered for adoption. If you would like access to any available printed materials or require assistance reviewing the online resources, please call the Instructional Resources and Media Services office at 904.547.3947. Materials are available for review from 8:30 a.m. - 4:30 p.m.
We encourage parent and community participation in our adoption process. If you would like to serve on a school committee and formally review the resources as a part of the school review team, please contact any school or our office at 904.547.3947.
To learn more about the policies and procedures for textbook adoption, visit the Florida Department of Education Instructional Materials Website.
B.E.S.T. Standards Presentation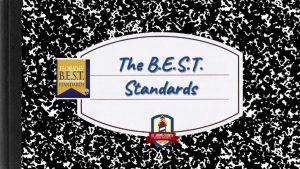 The purpose of the video is to provide parents and community members with information about the new B.E.S.T. Standards for English Language Arts and math. The video also explains the timeline for the implementation of the new standards.
View the B.E.S.T. Standards Presentation
In an effort to provide safety and security to our students and staff, we check identification for all vendors, visitors, volunteers and parents each time you enter the building.  Volunteers must have clearance to enter the building.  If you have not already been cleared, please submit a School Access Form.  Please input full legal name (first, middle and last) on the application.  If you already have clearance, please do not submit an application.  Expired accounts will be rerun automatically.
FortifyFL is a website and app developed at the direction of the Florida Legislature. Any student, educator, parent or member of the public can report school safety concerns directly to law enforcement and school administrators anonymously and easily through the FortifyFL app or getfortifyfl.com.