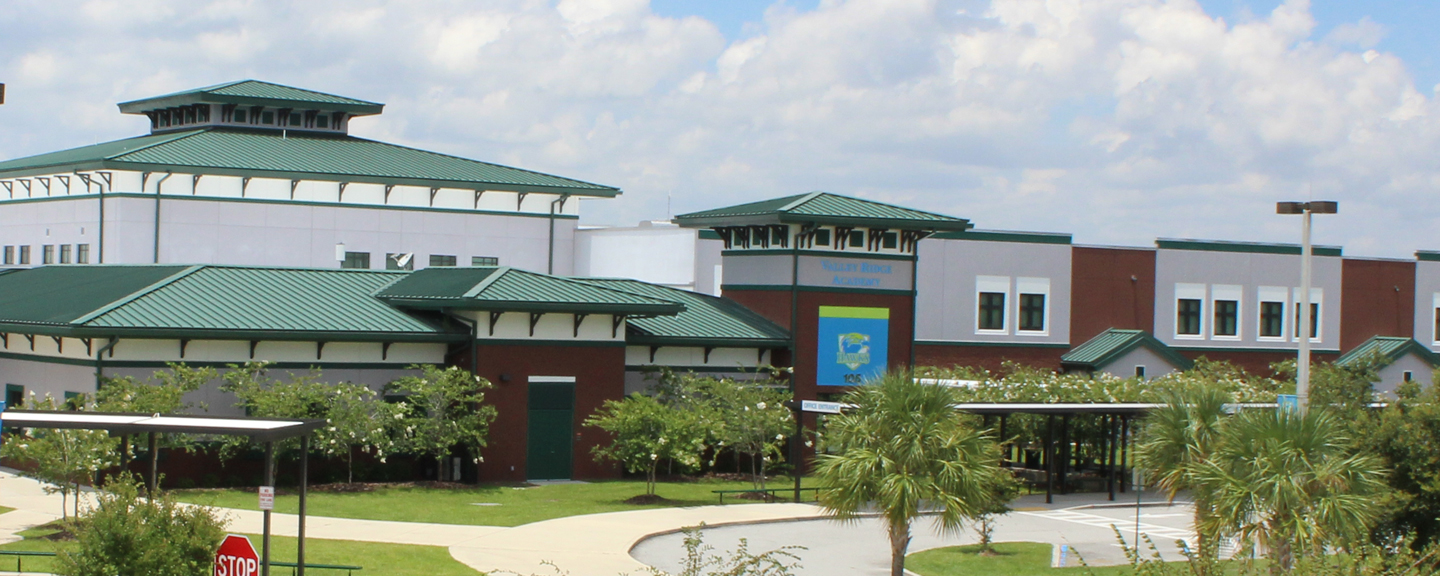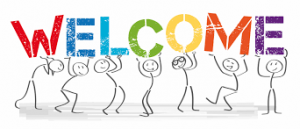 WELCOME TO VRA!! 
Are you new to VRA?  We welcome you to take a tour around the school to visit various areas and classrooms.  
Congratulations to our Teachers of the Year and School Related Employee of the Year for 2021-2022!!
Elementary: Leah Davis
Middle: Andrew Burk
Rookie: Brooke Lovelace
Employee of the Year: Joy Calvo
Order the 2021-2022 Yearbook!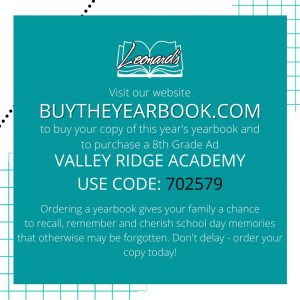 https://buytheyearbook.pictavo.com/PictavoSchool/FindSchool
EARLY BIRD DISCOUNT!
$35.00
DON'T FORGET TO MAKE YOUR STUDENT FEEL EXTRA SPECIAL BY PURCHASING AN AD IN THE YEARBOOK!
We accept dismissal changes up until 2:15 PM every day except Wednesdays. 1:15 PM is the deadline on Wednesdays.
Registration Timeline – Career and Technical Education (CTE) of St. Johns County
https://cte.stjohns.k12.fl.us/timeline/
Registration Timeline – Career and Technical Education (CTE) of St. Johns County
Any SJCSD resident who is moving a student from home school, virtual school or private school may apply for an academy by pre-registering for school on-line at the SJCSD website and selecting to also apply for a Program of Choice. All pre-registrations need to be completed online by the end of the school day February 10, 2022. If you should have any questions, please feel free to contact cte.stjohns.k12.fl.us
Birthday/Holiday Treats 
VRA's food policy is ONLY STORE BOUGHT FOOD WITH AN INGREDIENTS LABEL ON THE PACKAGE will be allowed.  This is regarding class parties/birthday treats/celebrations/ class treats/sharing of food. Food being brought into school will still need to be pre-approved by the teacher and as always we encourage healthy snacks. ALL FOOD MUST BE INDIVIDUALLY  PRE-PACKAGED AND CANNOT BE HOMEMADE. Examples can be Rice Krispie treats, Ice pops and Little Debbie cakes. Non food items are preferred.
Lunch Change Notification 
Starting on 1/5/2022, we will only be offering one entree for lunch.  "We have a new distributor, Food Supply, Inc.,  beginning January 2022.  While we have  a new distributor, the supply chain issues continue and are projected to continue for at least the remainder of the school year.  Knowing this, we will streamline our menus to offer items that are available.  The posted menus for January will offer less choices.  It is our intention to expand the menu once manufacturing and inventories at Food Supply can support the effort. "
Please see links below for more information and to apply for free/reduced lunch. 
2021-2022 Free and Reduce Application form
FINAL Lunch Program Change Notification
WEEKLY LUNCH MENU AT VRA
1/17-1/21
Monday 17th – Holiday
Tuesday 18th – Pasta & Meatballs – Assorted
Fruits and Vegetables-Milk
Wednesday 19th – Mac & Cheese – Assorted
Fruits and Vegetables-Milk
Thursday 20th -Max Cheese Sticks – Assorted
Fruits and Vegetables-Milk
Friday 21st – Cheeseburger – Assorted Fruits and
Vegetables-Milk
COVID-19 Information
Visit the COVID-19 Dashboard for the latest district news, COVID Instructional Documents, and COVID Health & Wellness resources.
PARENTS: To report a positive case of COVID-19, please first call the SJCSD COVID Support Team at (904) 547-8230 for guidance on next steps and/or any COVID related questions.

Please review the below sheet with your children daily before bringing them to school.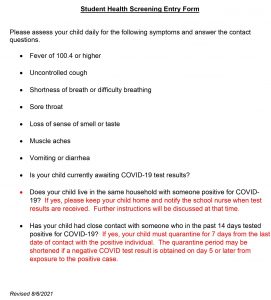 PBIS Pizza Kit Fundraiser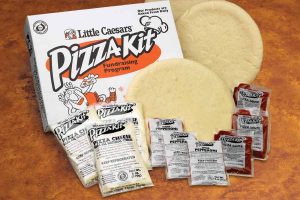 PBIS is running its annual Pizza Fundraiser! We will accept orders only during the month of January.
All orders are placed/paid online through the PizzaPizza! website.
Please see the flyer below for more information and how to order.
Programs of Choice Information 
If your rising 9th grader would like to learn more about the Programs of Choice & Career Academies offered at Nease High School, attend their Academy Open House! The event will be hosted in-person on Thursday, January 20th, on Nease's campus.  They are offering school tours at 5:30 pm, a general information session on their programs and the application process at 6 pm, and will feature breakout sessions at 6:30 pm, in which families can meet with Academy teachers and learn more about the specific programs they are most interested in.  Nease offers five programs to choose from: The International Baccalaureate Program, the Naval JROTC Program, The Communications Academy (with tracks in Digital Design and TV Production), The Academy of Hospitality & Tourism, and the Stellar Academy of Engineering.  If you would like to learn more, you can view their Academy website here: https://express.adobe.com/page/nNflETSeehtGQ/
If you have questions, you can also reach out to Nease's Academy Coordinator, Jaime Combs, at [email protected]
District Master Calendar Upcoming Events
School Hours
8:25 am – 2:45 pm (M,T,Th,F)
8:25 am – 1:45 pm (Wed.)
Office Hours
7:30 am – 3:45 pm
2021-2022 Instructional Materials Adoption for Mathematics UPDATE
St. Johns County School District curriculum department representatives and adoption committee members have completed the review process for the Instructional Materials Adoption for Math. On January 25, 2022, the School Board will conduct a public hearing to receive comment from the community regarding the final list of recommendations for instructional resources for this adoption. The public is invited to attend this hearing. The hearing will be held at 9:00 a.m. in the auditorium of the District Administrative Building located at 40 Orange Street in St. Augustine.
We encourage parent and community participation in our adoption process. Please visit our Instructional Materials Adoption web page to:
View the resources that are being considered for adoption.
Find out how to serve on a school committee and formally review the resources as a part of the school review team.
Learn more about the policies and procedures for textbook adoption.
B.E.S.T. Standards Presentation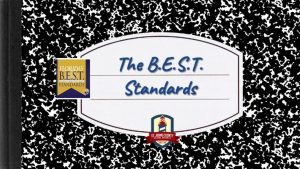 The purpose of the video is to provide parents and community members with information about the new B.E.S.T. Standards for English Language Arts and math. The video also explains the timeline for the implementation of the new standards.
View the B.E.S.T. Standards Presentation
Apply Now for the SJCCA Program at R.J. Murray Middle School
Families of Current SJCSD 5th Graders,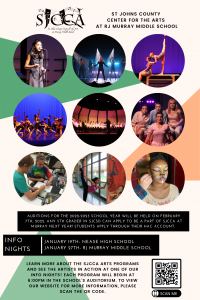 All rising 6th grade students are eligible to apply for admission to the award-winning St. Johns County Center for the Arts (SJCCA) at R.J. Murray Middle School. For over 20 years, SJCCA has been a county and state leader in arts instruction. SJCCA students consistently receive the highest ratings and awards at regional and state competitions. Students who attend SJCCA programs have the opportunity to learn and perform at prestigious locations including the St. Augustine Amphitheater, Broadway, and Walt Disney World. SJCCA students often continue to future arts success at prestigious post-secondary institutions.
To learn more about SJCCA, please visit the MMS SJCCA website or attend one of the following informational sessions:
Tuesday, January 18th at 6pm - Virtual Meeting
Wednesday, January 19th at 6pm at Allen D. Nease High School
Thursday, January 27th at 6pm at R.J. Murray Middle School
Ready to Apply?
All rising 6th graders may apply by completing the general application in
Home Access Center (HAC)
until
February 6, 2022.
Auditions at R. J. Murray Middle School will occur on February 7, 2022.
Apply Now for a High School Career Academy / Program of Choice
Families of Current SJCSD 8th and 9th Graders,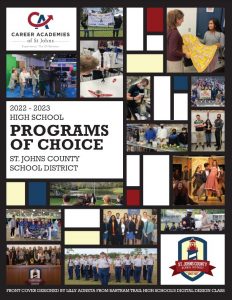 Students in 8th and 9th grade may apply for enrollment in a Program of Choice for any of the St. Johns County School District high schools.
Programs of Choice include high school Career Academies, IB and AICE acceleration programs, JROTC, Early College Program, and the St. Johns County Center for the Arts (SJCCA) at St. Augustine High School.
To learn more, please visit the Career & Technical Education website.
Ready to Apply?
All current 8th and 9th graders may apply by completing the general application in
Home Access Center (HAC)
. Eligible students who are currently attending a private school, home school, or a virtual school may also
apply to a Program of Choice
. The deadline to apply is
5pm on February 10, 2022.
In an effort to provide safety and security to our students and staff, we check identification for all vendors, visitors, volunteers and parents each time you enter the building.  Volunteers must have clearance to enter the building.  If you have not already been cleared, please submit a School Access Form.  Please input full legal name (first, middle and last) on the application.  If you already have clearance, please do not submit an application.  Expired accounts will be rerun automatically.
FortifyFL is a website and app developed at the direction of the Florida Legislature. Any student, educator, parent or member of the public can report school safety concerns directly to law enforcement and school administrators anonymously and easily through the FortifyFL app or getfortifyfl.com.