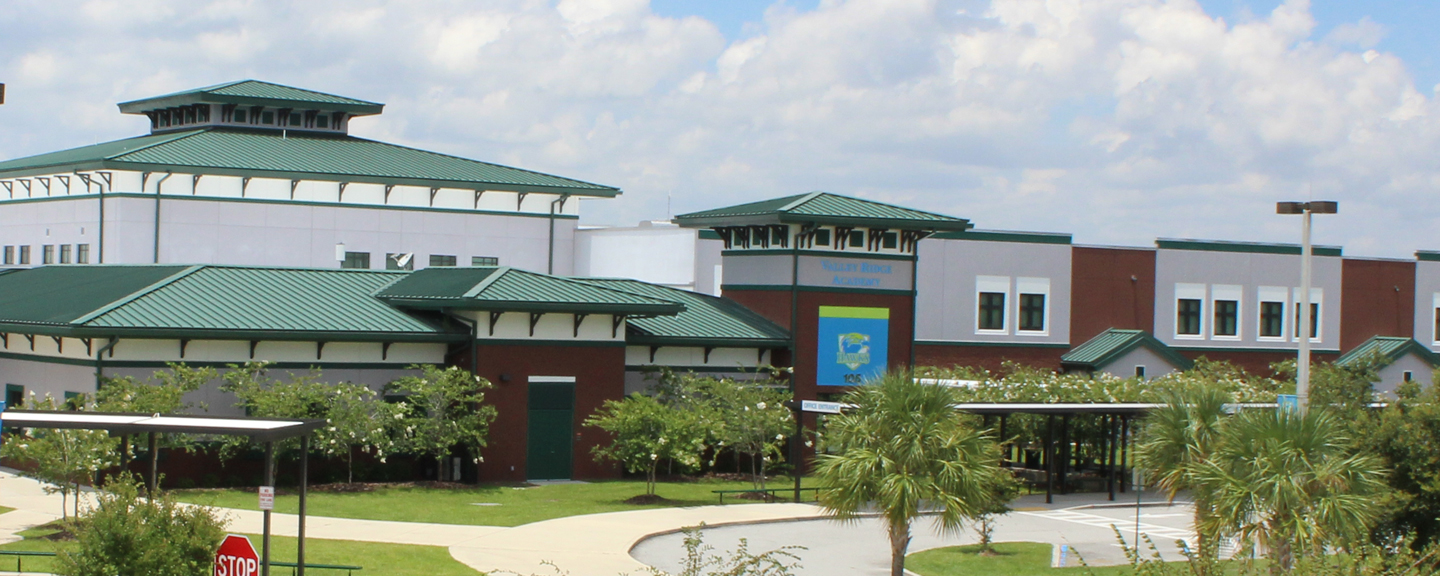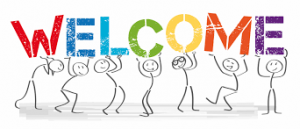 WELCOME TO VRA!! 
Are you new to VRA?  We welcome you to take a tour around the school to visit various areas and classrooms.  
Congratulations to our Teachers of the Year and School Related Employee of the Year for 2021-2022!!
Elementary: Leah Davis
Middle: Andrew Burk
Rookie: Brooke Lovelace
Employee of the Year: Joy Calvo
End of Year Clinic Info
As we near the end of the school year, I would like to remind you to stop by the clinic to pick up your child's medication.  School policy does not allow for medication to remain in the school over the summer.  It will be important for you to plan to pick up your child's medication since medications may not go home with the student.  Any medication left in the clinic after Friday, June 3rd, 2022 at 11:00 a.m. will be discarded according to policy.
As you know, new medication orders must be completed every school year whether your child remains in the same school or goes to another St Johns County School.  If your child has a physical examination during the summer months, this is a good time to get the medication forms completed.
For your convenience, the clinic will be open beginning Monday, August 8th, 2022 for the next school year to accept your child's medication and completed medication forms.          
If you have any questions or need to make arrangements to pick up medication, please contact the school clinic at 547-4104.
We accept dismissal changes up until 2:15 PM every day except Wednesdays. 1:15 PM is the deadline on Wednesdays.
*Only one change per day per family please.  Please do not submit an early checkout request. 
Birthday/Holiday Celebrations 
VRA's food policy is ONLY STORE BOUGHT FOOD WITH AN INGREDIENTS LABEL ON THE PACKAGE will be allowed.  This is regarding class parties/birthday treats/celebrations/ class treats/sharing of food. Food being brought into school will still need to be pre-approved by the teacher and as always we encourage healthy snacks. ALL FOOD MUST BE INDIVIDUALLY  PRE-PACKAGED AND CANNOT BE HOMEMADE. Examples can be Rice Krispie treats, Ice pops and Little Debbie cakes. Non food items are preferred.
BALLOONS ARE NOT PERMITTED ON CAMPUS. 
COVID-19 Information
Visit the COVID-19 Dashboard for the latest district news, COVID Instructional Documents, and COVID Health & Wellness resources.
PARENTS:  To notify us of your child's positive COVID-19 test result we are requesting
that you complete the Optional
Positive Student Reporting Form. However, should you feel you need to
discuss your child's COVID-19 scenario in detail, please feel free to bypass
the form and call the District COVID Support Team at 904-547-8230.

Please review the below sheet with your children daily before bringing them to school.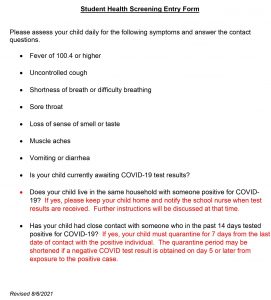 8th Grade Semiformal 
Please click the below link for information about the 8th Grade Semiformal. 
Middle School Parent Night Presentation 
Please view this important slideshow from the Parent Information Night that was held on 3/31/2022. It is filled with great information pertaining to Middle School 2022-2023. 
Middle School Parent Night 2022
District Master Calendar Upcoming Events
School Hours
8:25 am – 2:45 pm (M,T,Th,F)
8:25 am – 1:45 pm (Wed.)
Office Hours
7:30 am – 3:45 pm
2021-2022 Instructional Materials Adoption for Mathematics UPDATE
On February 8, 2022, the St. Johns County School Board voted to approve the list of recommended resources for adoption for Math. View the final list of approved resources. Florida Statute allows parents or residents of the county to object to the adoption of a specific instructional material. If you would like to contest the adoption of the Math resources, you must complete the Reconsideration of Instructional Materials Request Form and submit it to the SJCSD Instructional Resources and Media Services Department no later than noon on March 10, 2022.
Please visit our Instructional Materials Adoption web page to:
Access the math resources that are being considered for adoption.
Learn more about the policies and procedures for textbook adoption.
B.E.S.T. Standards Presentation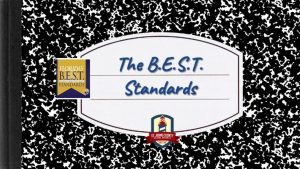 The purpose of the video is to provide parents and community members with information about the new B.E.S.T. Standards for English Language Arts and math. The video also explains the timeline for the implementation of the new standards.
View the B.E.S.T. Standards Presentation
In an effort to provide safety and security to our students and staff, we check identification for all vendors, visitors, volunteers and parents each time you enter the building.  Volunteers must have clearance to enter the building.  If you have not already been cleared, please submit a School Access Form.  Please input full legal name (first, middle and last) on the application.  If you already have clearance, please do not submit an application.  Expired accounts will be rerun automatically.
FortifyFL is a website and app developed at the direction of the Florida Legislature. Any student, educator, parent or member of the public can report school safety concerns directly to law enforcement and school administrators anonymously and easily through the FortifyFL app or getfortifyfl.com.