Cafeteria Information
ALL students are issued a personal identification number (PIN) for their meal account. The PIN will remain the same for their entire time at Valley Ridge.
At $0 balance, no a la carte purchases are permitted. Any debt must be paid before a la carte purchases can be made.
Restrictions can be placed on your child's account at any time throughout the year. Once restrictions are placed, they cannot be removed unless the parent provides the food service manager with a letter asking for the restrictions to be removed.
We accept cash or check here at Valley Ridge. We do ask that you please write your child's first and last name, at least one phone number, preferably two phone numbers on the memo line of the check.
Dear SJCSD Families,
As a result of COVID-19 pandemic, we are seeing nationwide disruptions to manufacturing, supply and distribution channels and it is impacting our school meal program.  In short, we're having trouble getting foods, supplies and staff to support our program. Your student(s) may notice that we're serving different items than we've served in the past or different items than were listed on the menu.  This situation is something that school districts across the country are experiencing. We are doing our best every day to come up with solutions to these challenges.
To reduce the demand on our supply chain and accommodate current staffing levels, the St. Johns County School District will return to normal food service operations on Wednesday, December 1, 2021.  Students who qualify for free or reduced meals based on direct certification or a family income application will continue to receive meals at no or reduced costs.  Students who are not eligible based on income will return to a PAID status.
Beginning today, October 25 through Tuesday, November 30, families are encouraged to complete the family lunch application if they feel they qualify for free or reduced cost meals. Applications are located on the SJCSD Website at https://www.stjohns.k12.fl.us/food/free/, your student's school or the Food and Nutrition Services Office located at 3015 Lewis Speedway, Building 7, St. Augustine, FL 32084.  Eligibility status is protected by very strict disclosure regulations.  Students use a PIN or Student ID in the serving line.  The student's eligibility is private throughout the transaction.
If your student(s) attend(s) a Community Eligibility Program School, there is no need to complete an application.  All students will continue to receive no cost meals through the end of the school year.  These schools are as follows: Webster Elementary, Crookshank Elementary, Osceola Elementary, South Woods Elementary, Mason Elementary, The Transitions School, Gamble Rogers Middle School, Murray Middle School, Sebastian Middle School and St. Johns Technical High School.
Beginning Wednesday, December 1, 2021 Meal Prices will be:
Breakfast             Lunch
Elementary:        Paid                      $1.25                   $2.80
Reduced               $0.30                 $0.40
Middle/High:      Paid                      $1.25                   $2.95
Reduced               $0.30                 $0.40
Prepayments into student lunch accounts can be made by using PayPams.  The link to this service is located at https://www.stjohns.k12.fl.us/food/paypams/.
We will continue serving our students a variety of nutritious foods. While there may be some menu changes, please know that we will strive to meet nutrition guidelines set by the United States Department of Agriculture (USDA). We will also continue to accommodate students with special diets and allergies.  We appreciate your patience and understanding.  If you have questions, please contact the Student Nutrition Services Department at 904-547-8931.
Sincerely,
Sean Prevatt
Director of Food and Nutrition Services
The Food and Nutrition Services Department will no longer be using SchoolPay for prepayments of breakfast and lunch, and have switched back to PayPAMS. Parents/Guardians will need to create a new account, even if you used PayPAMS in the past. Previous accounts are no longer valid. Please see the PayPAMS Brochure (which is also available in Spanish) for information regarding setting up your account, and other information regarding all the benefits of PayPAMS. Any balances that were left on your SchoolPay account for breakfast and lunch (negative or positive) will transfer over to PayPAMS.
Prepayment is HIGHLY encouraged as it assists in movement of students through the line faster.
Low Balance Email Notification and Automatic Payments
From the Food Service Dashboard, on the right side of each student's row you can manage your student's funds including setting up automatic payments or email notifications. At the top of the manage funds section you can see your last payment, as well as the current low balance action that you have set up. To edit your low balance action click "Details" and do the following:
Select a threshold (Balance amount at which you want your selected action to occur)
Select the action "Send Email" or "Automatic Payment"
If you select "Automatic Payment" you will be asked to select the amount you would like to AutoPay and also the account you would like to AutoPay from.
Save your changes
If your child has food allergies, please provide the school nurse with a physician's note indicating the allergies and the appropriate substitutions that are recommended by the physician or medical authority.
Account Balances, either positive or negative, from the previous school year will roll into the new school year unless a refund has been requested. Balances will also follow your child to another school as long as the school is still in St. Johns County.
Free and Reduced Meal Application can be completed online by going to
2021-2022 Free and Reduce Application form
Your student'(s) meal status (free or reduced) at the end of a school year will continue through the first 30 days of the next school year. Unless a new Family Meal Application has been processed and approved by the 30th day of school, your student'(s) meal status will revert to PAID. You may complete a lunch application at any time during the school year.
The food service manager's (Daisy Morales) hours are 6:00am to 2:00pm. Please feel free to contact if you have any questions, concerns or comments.  Daisy Morales or 904.547.4100
SJCSD Department of Health Reports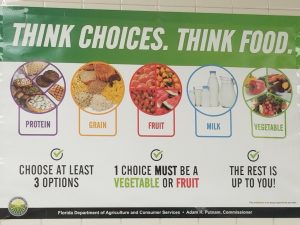 WEEKLY MENU
Please see the VRA homepage for the weekly menu.