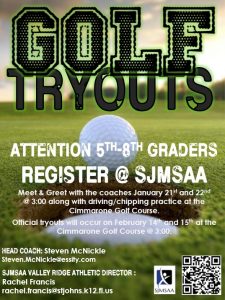 Middle School Golf
Anyone interested in joining the middle school golf program for the upcoming season should register at  www.sjmsaa.com   There is a non-refundable deposit of $25 for tryout and cost for season is $235 which includes access to home course, range balls, instruction for PGA professionals and golf shirt. All skill levels are welcomed and will be positioned after tryouts / assessments by the coaches and golf staffs at Cimarrone Golf & CC.  There will be a developmental team and a competition team where each team will play in matches and have access to practice and receive instructions from a  PGA professional
Developmental Team:
One aspect that SJMSSA golf provides is a developmental team in conjunction with total team.  What this means, is any player who's just beginning or not tournament ready will still be a full member of team, participate in practice and compete with developmental teams. They also have the opportunity to garner additional practice time at Cimarrone with a coach to help these players improve their skill set and play tournaments against the other developmental teams.  We do this to help foster the fundamentals  of the golf and to allow them to quickly improve their skills while learning the etiquette of the game
Competition Team: 
During the season the matches allow 12 players from each school  to compete and this is broken up into individual matches and a couple of "Shamble" teams.  A shamble team is two players who are paired together and each person tees off and they pick the best drive.  Once they pick the best drive they play their own ball through the hole and take the best score of the two.  For example, one player makes a 6 and the other makes a 5 the team score for that hole is 5.