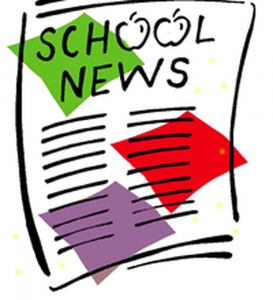 Latest Monthly Newsletter
Latest Hawk Update
Archives
---
Dismissal Changes
Click here to email dismissal changes.   We accept dismissal changes up until 2:15 PM every day except Wednesdays.  1:15 PM is the deadline on Wednesdays.
---
Forgotten Materials
The front office will be happy to place forgotten materials in the Teacher's box.  Students are responsible for bringing necessary items to school therefore class will not be interrupted.  The only exception to the policy is a student's lunch or lunch money.
---
Volunteer Clearance
In an effort to provide safety and security to our students and staff, we check identification for all vendors, visitors, volunteers and parents each time you enter the building.  Volunteers must have clearance to enter the building.  If you have not already been cleared, please submit a school access form.


***Order your Spirit Wear Now – While Supplies Last!***
December Generosity Calendar
VRA is putting December's Character Counts! Pillar of Generosity into practice.  Each day throughout the month of December there is an act of generosity that each student and staff member can do.  The news crew will also highlight the act of generosity designated for the day on the morning news show.  Please see the Generosity Calendar.  The Guidance Department thanks you for all of your support!
Basketball tryouts (Revised)
Middle School students only.
Boys tryouts:  
Dec. 5, 9, 12, 16 @ 3:00pm-4:30pm
Dec. 13 ,15 @ 4:30pm-6:00pm
Girls tryouts:
Dec. 6, 8, 13, 15 @ 4:30pm-6:00pm
Dec. 12, 16 @ 3:00pm-4:30pm
Cuts will be made each day.
Have rides pick you up promptly at 4:30. Any questions, please ask Coach Hallett or Coach Mora.

High School Transition Meeting
For 8th grade parents and students.  The counselors from Nease will share important information with 8th grade parents and students about the transition to high school.  Dec. 8th at 6:00pm in the VRA cafeteria.
Character Counts! Six Pillars 6K/3K Run • Walk
Saturday, Feb 4. 2017. 9 A.M. at Palencia Elementary
Register by January 14, 2017, to recieve a performance tech t-shirt and other goodies.  The first 500 finishers will receive a collectible dog tag.


Spanish L.E.E. – Enrolling Now!
Basic, Intermediate and Advanced Spanish instruction.  Classes start January 10th.  Registering new and current students.
Instructional Materials Adoption
The St. Johns County School District is currently reviewing materials for the Florida Instructional Materials adoption for Social Studies. The courses being  considered for adoption are listed in the district website  (Social Studies Adoption Review Information) along with online access information. Digital and print materials are also available for examination at The Fullerwood Center, 10 Hildreth Drive, St. Augustine, 32084, from 8:30 AM – 4:00 PM weekdays, excluding holidays. This list will be updated if more items are submitted for review.  Check the website frequently for updates.  Please call 904.547.3947 for more information if needed.
Gifted Program Advisory Council
The Gifted Parent Advisory Council meets four times per year to inform the school district about ways in which we can improve our efforts in serving our gifted students. Parents of K-12 gifted students from throughout the district are encouraged to come to all of the meetings.
The Gifted Parent Advisory Council meetings have been scheduled for the 2016-17 school year.  We communicate this information for inclusion in school newsletters.  We hope to make St Johns County Schools a parent friendly environment!
Tuesday, September 27 – Hickory Creek Elementary 6:30-7:30 p.m – Media Center
Thursday, November 17 – Palencia Elementary – 4:30-5:30 p.m – Media Center
Thursday, February 23 – Hartley Elementary – 5:30-6:30 p.m – Media Center
Tuesday, April 25 – Landrum Middle School – 6:30-7:30 p.m. – Multi-Purpose Room