Early checkouts must be completed by 2:15pm on M,T,Th,F and 1:15pm on Wednesdays.  This procedure will be strictly enforced.
---
 Please see VRA's Parent Hawk Update for the latest information
HAWK UPDATE
Registration for
2016-2017 school year:
Enrollment Checklist
New Student Registration Form 2016-2017
Home Language Survey
Student Emergency and Health Information Form 2016-2017
Kindergarten Parent Input
Grades 1-5 Parent Input
---
Free Use of High School Outdoor Facilities This Summer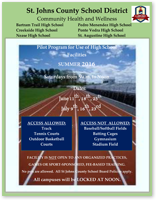 For six Saturdays in June and July, outdoor facilities at each of our high schools will be open for public use to promote community health and wellness. Some restrictions apply.
Please view the flyer for details.
---
Yearbooks are here!
All pre-ordered yearbooks will be distributed Wednesday morning.  If you have not pre-ordered, yearbooks will be available for purchase
Wednesday and Thursday:
Outside the front office: 7:30 am – 8:30 am
500 Commons:  7:30 am – 8:30 am, 10:30 – 12:30
Front office: all day
Cost is $40.  Please have correct change for cash purchases or make checks out to Valley Ridge Academy.
IMPORTANT SUMMER DATES:
ELEMENTARY
June 6th – 8th ∼ Kindergarten Screening
9:00 – 1:00 Drop in during those times
Monday, August 8th ~ Meet the Teacher ~ PreK – 5th Grade
Pre-K – Kindergarten- -8:00 a.m. -9:00 a.m.
1st – 2nd Grade- -9:30 a.m. -10:30 a.m.
3rd – 4th Grade- -12:30 p.m. -1:30 p.m.
5th Grade- -2:00 p.m. -3:00 p.m.
Kindergarten Staggered Start ~ Teachers will notify
Wednesday, August 10th, Thursday, August 11th, or Friday, August 12th
Monday, August 15th ~ All Kindergarten students attend
Tuesday, September 6th ~ 4th and 5th Grade Open House ~ 6:00 p.m.
Tuesday, September 13th ~ 2nd and 3rd Grade Open House ~ 6:00 p.m.
Thursday, September 15th ~ Pre K and 1st Grade Open House ~ 6:00 p.m.
Thursday, August 4th ~ Bullying Prevention Presentation ~ 5:00 p.m.
MIDDLE SCHOOL
Monday, August 1st ~ MS Schedule, Books, Paperwork and Locker Distribution
8:30 a.m. -10:30 a.m. – -8th Grade
11:00 a.m. -1:00 p.m. – -7th Grade
1:30 p.m. -3:30p.m. – -6th Grade
Tuesday, August 9th ~ Middle School Orientation
8:00 a.m. -10:00 a.m. – -6th, 7th, & 8th Grades
Tuesday, August 30th ~ Middle School Open House
6:00 p.m.-7:00 p.m.
SJCSD Summer VPK Program
June 1st – July 25th, Five days a week, 7:30 am – 3:30 pm. at Crookshank Elementary School.  Click for information.  
Nease Physicals
Thursday, May 26 4 p.m. to 6 p.m.  Must be checked in by 5:50 p.m. in the Nease Media Center.  $20 All proceeds benefit the Athletic Training Department.  Click for additional information.
All Visitors, Volunteers and Vendors
In an effort to provide safety and security to our students and staff, we check identification for all vendors, visitors, volunteers and parents. Each time you enter the front reception area you will be asked to present your I.D. Visitors and volunteers must have clearance to enter the building.  If you have not already been cleared, please submit a school access form.