SUMMER HOURS
7:30 am – 3:30 pm
SCHOOL TOURS
VRA Tours will be given on
Wednesdays, June 8th and 22nd
 July 13th and 27th
at 11:00 am at the front office.
Registration Information and Documents
Summer Reading List
Grade K
Grade 1
Grade 2
Reading Log for Grade K-2
Grade 3
Reading Log for Grade 3
Grade 4
Grade 5
Reading Log for Grade 4-5
Grades 6, 7 and 8
Reading Log for Grades 6-8
---
Free Use of High School Outdoor Facilities This Summer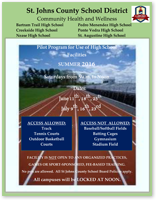 For six Saturdays in June and July, outdoor facilities at each of our high schools will be open for public use to promote community health and wellness. Some restrictions apply.
Please view the flyer for details.
---
KINDERGARTEN SCREENING ADDED
**** Monday, July 18th:  Drop in 9:00 -12:00 ***
PRACTICAL MAGIC SEMINAR –
Behavior Management for Parent of Students of All Ages
August 3, 2016,  6:00-8:30pm, St. Augustine HS
Registration Required
Yearbooks
Remaining yearbooks are available for purchase at the front office.
Cost is $40.  Please have correct change for cash purchases or make checks out to Valley Ridge Academy.
IMPORTANT SUMMER DATES:

August 3-7 ∼ Teacher Pre-planning

August 10 ∼ Students report to class

ELEMENTARY
Monday, August 8th ~ Meet the Teacher ~ PreK – 5th Grade
Pre-K – Kindergarten- -8:00 a.m. -9:00 a.m.
1st – 2nd Grade- -9:30 a.m. -10:30 a.m.
3rd – 4th Grade- -12:30 p.m. -1:30 p.m.
5th Grade- -2:00 p.m. -3:00 p.m.

Kindergarten Staggered Start ~ Teachers will notify
Wednesday, August 10th, Thursday, August 11th, or Friday, August 12th

Monday, August 15th ~ All Kindergarten students attend

Tuesday, September 6th ~ 4th and 5th Grade Open House ~ 6:00 p.m.

Tuesday, September 13th ~ 2nd and 3rd Grade Open House ~ 6:00 p.m.

Thursday, September 15th ~ Pre K and 1st Grade Open House ~ 6:00 p.m.

Thursday, August 4th ~ Bullying Prevention Presentation ~ 5:00 p.m.

MIDDLE SCHOOL
Monday, August 1st ~ MS Schedule, Books, Paperwork and Locker Distribution
8:30 a.m. -10:30 a.m. – -8th Grade
11:00 a.m. -1:00 p.m. – -7th Grade
1:30 p.m. -3:30p.m. – -6th Grade

***Students that are unable to attend August 1 will receive schedules and lockers through their homeroom on the first day of school. PE uniforms can also be purchased in the first week of school if needed.***

Tuesday, August 9th ~ Middle School Orientation
8:00 a.m. -10:00 a.m. – -6th, 7th, & 8th Grades

Tuesday, August 30th ~ Middle School Open House
6:00 p.m.-7:00 p.m. 

All Visitors, Volunteers and Vendors
In an effort to provide safety and security to our students and staff, we check identification for all vendors, visitors, volunteers and parents. Each time you enter the front reception area you will be asked to present your I.D. Visitors and volunteers must have clearance to enter the building.  If you have not already been cleared, please submit a school access form.